Skip to main content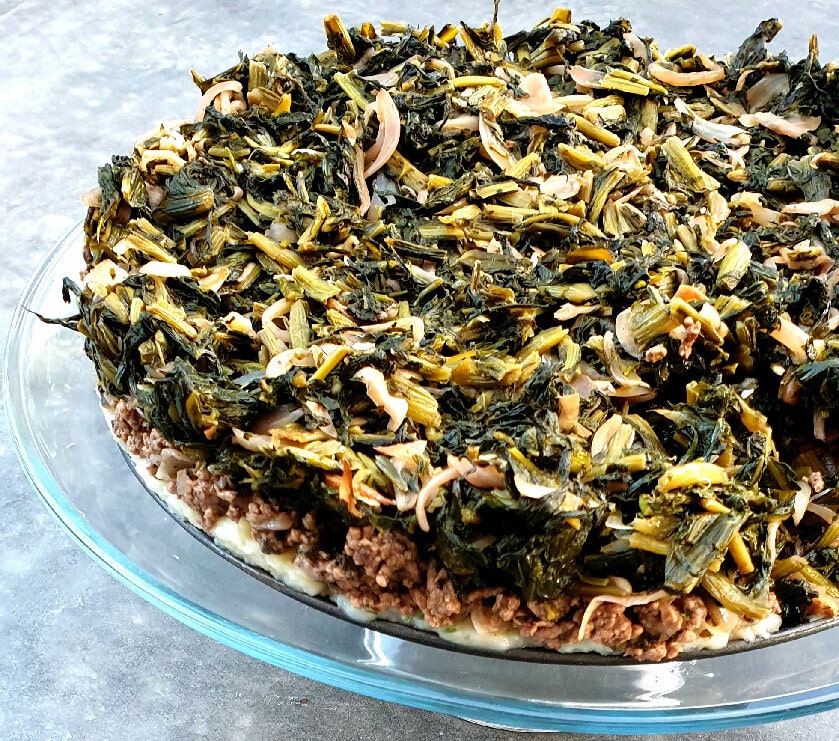 Potato Soufflé Revisité with Hindbeh and Moghrabieh Spices
Salads
Ingredients

For the Potato Purée:
700g Sweet Potatoes
30g Optifast Vegetable soup powder
Water 120ml
For the Meat:
350g lean minced meat
1 large onion diced
3 tbsp chopped coriander
2 tbsp moghrabieh spices
1 tsp sumac
For the Hindbeh (Dandelion Greens):
1.5 kgs of Dandelion Greens
3 large onions
3 garlic cloves
6 tbsp chopped coriander
6 tbsp olive oil

Preparation

Boil the potatoes in water. Once cooked, peel them and mash them. Dilute Optifast vegetable soup powder in water. Add to the mashed potatoes and mix well.
In a cooking pan, place one diced onion, add the chopped coriander and minced meat all along the moghrabieh spices and sumac. Stir until meat is completely cooked.
Chop the dandelion greens and cook in a large pan for around 10 minutes. Remove and drain all the water. Meanwhile, sliced the three onions and sauté them in olive oil. Add the crushed garlic and coriander. Incorporate the dandelion greens and cook for a round 10 to 15 minutes.
Pack the potato puré into a 9-inch springform pan. Top it with the cooked meat and finally add the layer of cooked hindbeh. Refrigerate for a couple of hours before removing the mold and serving.
One serving of this recipe includes 1/6 portion of this meal serve with a green salad with lemon juice.