Skip to main content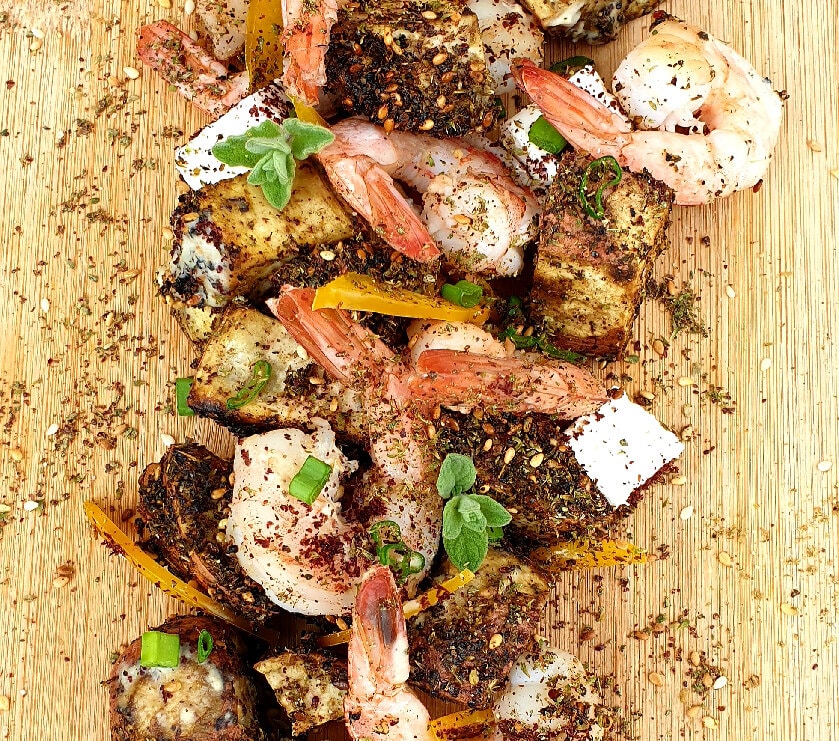 Sweet Potatoes Zaatar with Shrimps and tahini
Grills
Ingredients

150g Sweet Potatoes
4 tbsp zaatar Mixture
1 tbsp Olive oil
14 medium sized shrimps
1 tbsp white balsamic vinegar
Black Pepper
1 tbsp tahini
1/2 cup water
30g feta cheese
1/2 tsp sumac
2 tbsp sliced spring onions
14 strips yellow pepper
Wild thyme leaves to decorate

Preparation

Cut the sweet potato into cubes (keeping the skin on).Mix the thyme mixture with olive oil and incorporate the potato cubes. Transfer to a baking tray and cook in a pre-heated oven (200°c) for around 25 minutes.
In a cooking pan place 1 tbsp of white balsamic vinegar, black pepper and cook the shrimps until they form c shapes.
In a small bowl, place 1 tbsp tahini, add water gradually while stirring. Add black pepper and salt to taste.
For the plating you need to place to zaatar potatoes first, add the shrimps in between. Cut feta cheese into cubes, sprinkle with sumac and add it all along the spring onions slices and yellow pepper strips. Decorate with wild thyme leaves and serve.